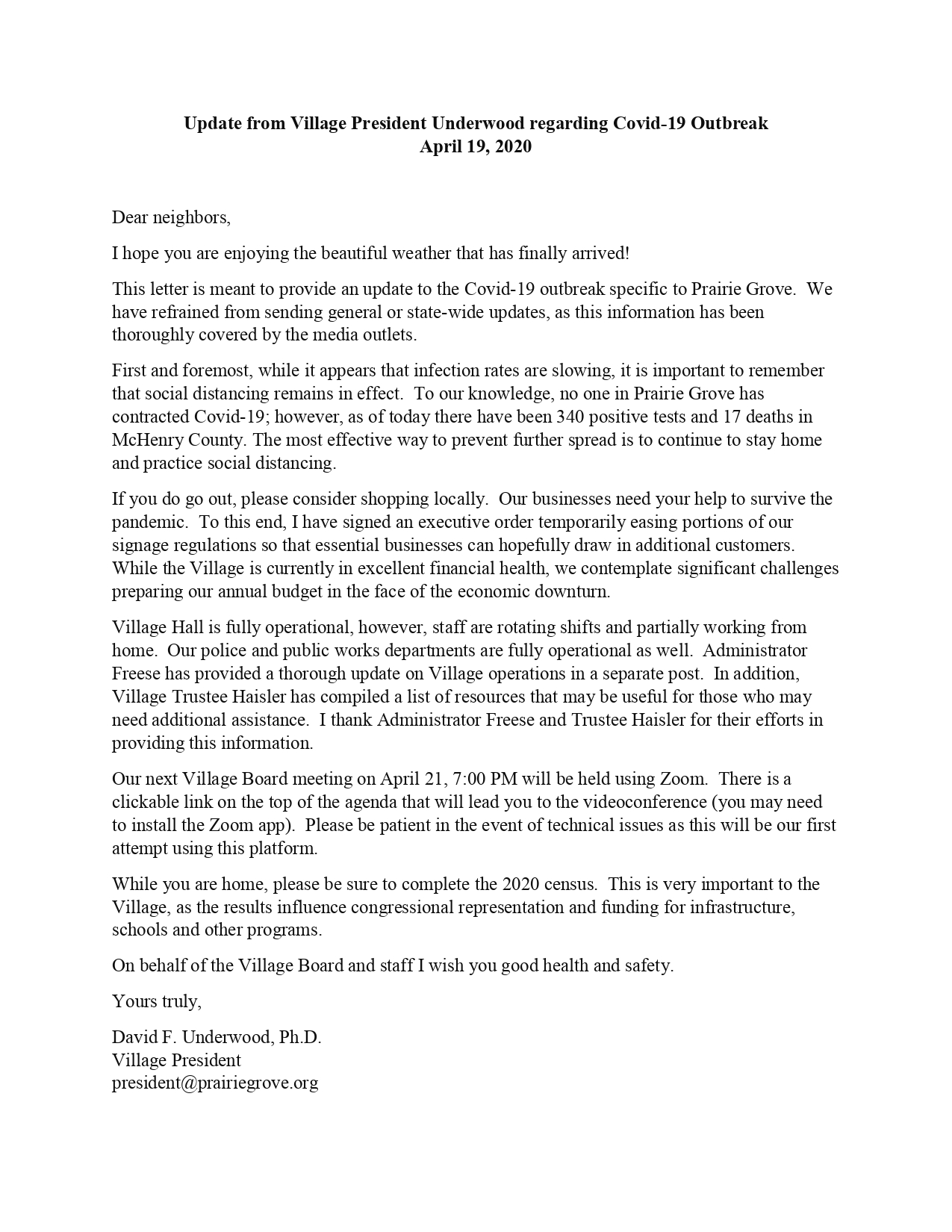 An Important Message From Village President Underwood - March 17, 2020
Dear Residents of Prairie Grove,
I am reaching out to share some Village-specific information with regard to COVID-19, and a few directives that were passed down by Governor Pritzker today. Village Administrator Freese and I have been in constant contact over the last few weeks and have participated in frequent teleconferences with state officials regarding the evolution of the corona virus. The Governor is now holding briefings every Tuesday and Friday to keep local officials appraised of the situation.
First, some Village news. Yesterday I signed a Proclamation of Disaster in the Village of Prairie Grove, and on Thursday I will sign a Declaration of Emergency. The execution of these instruments should not cause alarm; instead, they are in place to assist in securing state and/or federal funding in light of the COVID-19 pandemic, should it become necessary.
In the interest of protecting our staff so that the Village can continue to operate, we have decided to close Village hall to in-person traffic, effective immediately. Village business will be conducted by phone, fax and email ONLY until further notice. Our Police, Pubic Works, Building and Administration departments are fully operational at this time.
Prairie Grove School is currently closed and is expected to remain that way until at least March 31. No establishment may serve food in a sit-down environment within the Village. All food must be carried out or obtained by drive-through.
During a teleconference today, Governor Pritzker, along with senior officials from the Department of Health and other agencies specifically asked for your cooperation in the following:
Do not meet in groups of 10 or more people. Maintain a six (6) foot distance when visiting with others and wash your hands frequently. In other words, practice safe "social distancing."
Do not go to the hospital if you are only experiencing mild flu symptoms. Instead, stay home and stay away from others. DO go to the hospital (or call 911) if you are experiencing shortness of breath or other life-threatening conditions.
Do not "hoard." As the Governor stated, there are plenty of food and supplies to go around. Illinois' supply chain is strong and officials are working around the clock to keep it that way. Take what you reasonably need, and leave some for others.
Vote (safely). If possible, monitor your poling station for traffic and enter when it appears to be less busy. Maintain social distancing and wash your hands afterward.
With all of that said, please be mindful that the survivability of our local businesses depends on all of us. We have establishments in our community that can safely provide food and other services. Uber has recently announced that they will waive delivery fees for food delivery from local businesses.
Lastly, I wish each of you and your families good health. We are all in this together and while we face significant challenges now, we will ultimately emerge as a stronger community. Please feel free to contact me at [email protected] or Administrator Michael Fresse at [email protected] if you have questions.
Very truly yours,
David F. Underwood, Ph.D.
President
Village of Prairie Grove
Please Stay Informed, Coronavirus Updates:
On a recent regional coronavirus conference call, Mayor Ligtfoot encouraged Mayors and other officials on the call to feel free to use the City of Chicago's coronavirus website as an information resource.  The site is updated daily, sometimes multiple times a day.
A sign up link was added for individuals who choose to sign up will receive the latest updates as they are posted.  If you wish to take advantage of this feature, go to: https://lp.constantcontactpages.com/su/VwvbSW5/coronavirus